Sage 50 – U.S. Edition (formerly SagePeachtree) Accounting Integration
Sage 50 accounting integration provides a means to utilize Sage 50 for purchasing and sales, while using FORMULATOR for manufacturing and inventory in Batch Process Accounts (Chemicals, Nutritional, Cosmetics, Pharmaceutical).
Functionality includes:
Transfer of inventory changes from FORMULATOR to Sage 50 (batching, filling, and manual transactions) with transaction integrity, fault tolerant restart, and automatic error reprocessing queue.

Transfer of Peachtree receiving and shipping information to FORMULATOR, with optional lot entry and complete visibility of all interface data.

Starting inventory synchronization.

FORMULATOR physical and cycle count inventory can force a sync with Sage 50 at any time.

Inventory items in FORMULATOR or Sage 50 can be swapped back and forth at any time.

Transfer of sales orders and customers from Sage 50 to FORMULATOR provides aggregation of order demand and bills of lading output.

FORMULATOR sales order demand status is automatically set to complete when the order line item ships in Sage 50.

Update the current costs of raw and packaging materials in FORMULATOR using the latest Sage 50 purchase receipt costs.

Update of on-order quantities in FORMULATOR based on Sage 50 open purchase orders.
Purchase receipts and sales order shipments are tracked by their Sage 50 order numbers in order to avoid duplication. Partial receipts and partial shipments are supported, as is no-bill purchasing receipt. Lot numbers are entered interactively during the sales and purchasing interface process. Lot information can also be filled in after the fact. Lot tracking and tracing is thus available in FORMULATOR from purchase to sale and back again.
Physical inventory synchronization allows manufacturing, purchasing, and sales activity to continue while physical inventories are compiled and entered. In other words, there is no need to halt any business processes while a physical inventory is counted and entered.
The Sage 50 accounting integration is a "big button" interface, with most modules requiring nothing more than selecting the module and clicking "Begin" to run the process.
All transactions sent to Sage 50 are logged, and can be reversed at will. Transaction reports can also be automatically saved and logged as PDF files.
Inventory transaction transfer from FORMULATOR to Sage 50: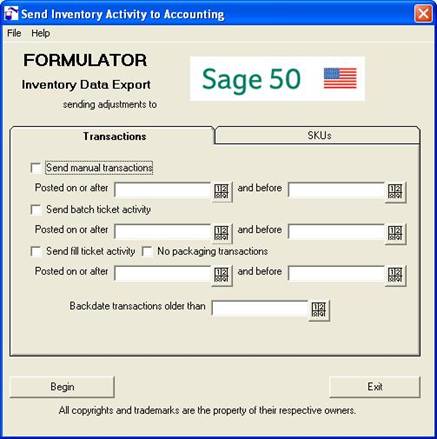 Sales and Purchasing from Sage 50 to Formulator: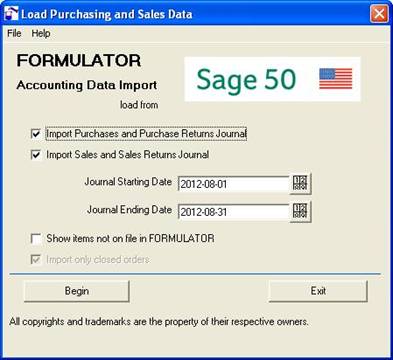 Sales order & Customer import from Sage 50 into FORMULATOR: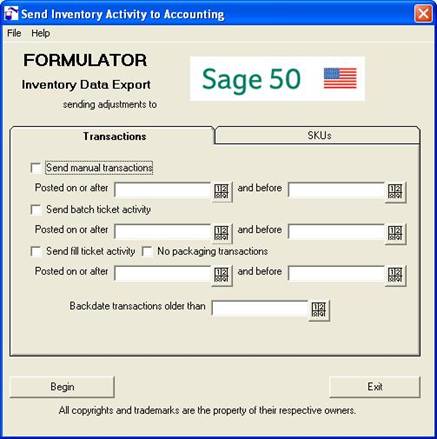 Inventory adjustments based on Formulator physical inventory counts: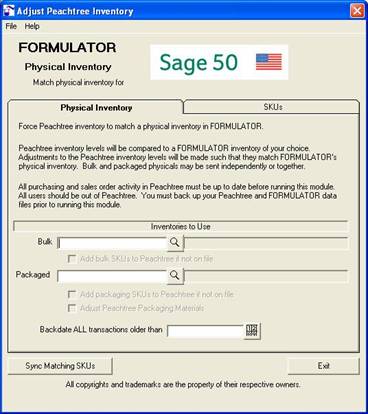 When running this module, the user is instructed to set the Sage 50 system date to the date of the physical, and the Sage 50 accounting period to the period of the physical. This sets the reported Sage 50 counts to those that were in effect at the time of the physical count. At the end of the process, the user is advised to revert to the present time and period.
Update current costs from Sage 50 Purchasing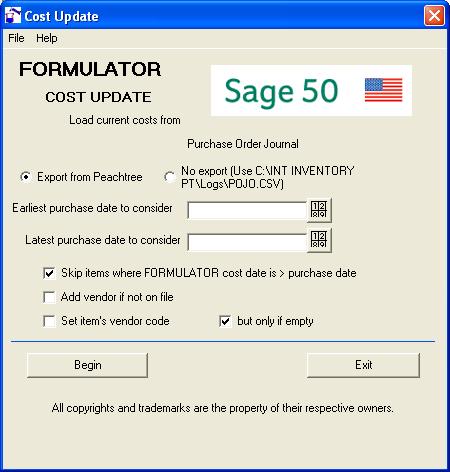 Load On-Order Quantities from Sage 50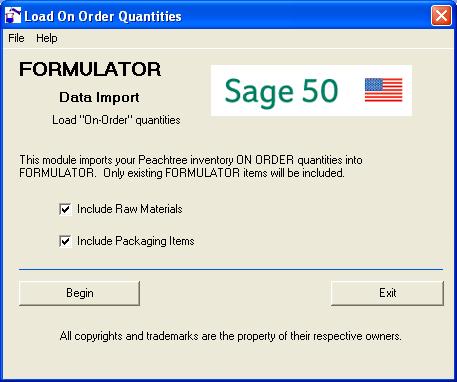 Initial Import of items and inventory from Sage 50